Children's Supplements
Sproutman Recommended
Get 20% Off when you use Sproutman's code!

Here's how to order
the products on this page:
1) Click the product when ready to enter our supplement site
2) Enter this code SPRTMN to get your discount!
3) Create an account or log in
4) Search for the product code
5) Add the product to your cart
6) Pay using your credit card
Note: Sproutman-recommended supplements are shipped and billed separately from other Sproutman products. Shipping information at bottom.

Sproutman recommends: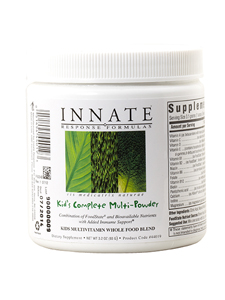 Kids Complete Multi Powder 3.2oz
Product code: IN44019
Suggested Use: Mix one scoop with 8 oz. of water or your favorite beverage daily, or as directed by your health care practitioner.
Serving Size 3.1 grams (1 scoop)
Servings per Container 30
Amount per Serving: Vitamin A 2500 IU, Vitamin C 200 mg, Vitamin D 600 IU, Vitamin E 30 IU, Vitamin B1 30 mg, Vitamin B2 20 mg, Niacin 7 mg, Vitamin B6 2 mg, Folate 200 mcg, Vitamin B12 15 mcg, Biotin 100 mcg, Pantothenic acid 10 mg, Calcium 200 mg, Iodine 25 mcg, Magnesium 50 mg, Zinc 2 mg, Selenium 10 mcg, Copper 33 mcg, Manganese 1 mg, Chromium 15 mcg, Molybdenum 5 mcg, Boron 200 mcg, Vanadium 3 mcg, Choline 40 mg, Arabinogalactan 200 mg, Beta Glucans (1,3/1,6) 25 mg,
Other Ingredients: Citric Acid, Natural Flavors, Organic Purple Sweet Potato (for color), Stevia Leaf
FoodState Nutrient Sources: Brown rice, Saccharomyces cerevisiae, Broccoli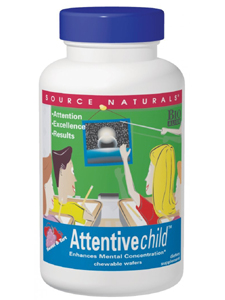 Attentive Child Chewables 30 Wafers
Product code: SN1213
Serving Size 2 Wafers
Amount Per Serving: Calories 20, Total Carbohydrate 4 g, Sugars 2 g, Magnesium 120 mg, Zinc 2 mg, L-Aspartate 310 mg, DMAE 100 mg, Sharp-PS® Soybean Extract 33 mg, Yielding 60% Phosphatidylserine 20 mg, Grape Seed Extract (Proanthodyn™) 15 mg
Other Ingredients: crystalline fructose, xylitol, stearic acid, natural peach flavor, magnesium stearate, silica, citric acid, and natural orange, chocolate and cherry flavors.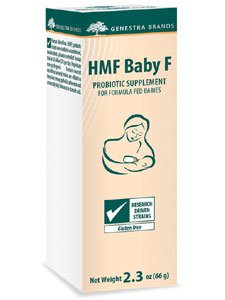 HMF Natogen Formula 2.1oz
Product code: HMF458
A probiotic for breast-fed children.
Serving Size: 1 Scoop (1 g)
Servings per Container: 60
Amount per Serving: Total Carbohydrate <1 g, Probiotic Consortium 3 billion CFU, Bifidobacterium bifidum (CUL-20)
Bifidobacterium animalis subsp. lactis (CUL-34), Lactobacillus salivarius (CUL-61), Lactobacillus paracasei (CUL-08)
Galactooligosaccharides (GOS) 750 mg, Fructooligosaccharides (FOS) 75 mg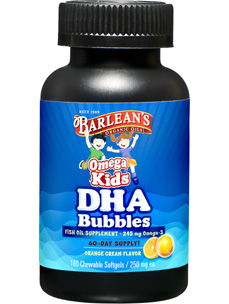 Omega Kid's DHA Bubbles 180 Chews
Product code: B10148
A fun, easy way to provide children with optimal levels of nutritious Omega-3.
Serving Size: 3 Capsules
Servings per Contaner: 60
Amount per Serving: Calories 5, Calories from Fat 5, Total Fat 1 g, Saturated Fat 0 g, Trans Fat 0 g, Polyunsaturated Fat 0 g, Monounsaturated Fat 0 g, Cholesterol 5 mg, Sodium 0 mg, Total Carbohydrate 1 g, Sugars 0 g, Vitamin E 8 IU, Omega-3 Polyunsaturated, Eicosapentaenoic Acid (EPA) 111 mg, Docasahexaenoic Acid (DHA) 120 mg, Other Omega-3 Fatty Acids 14 mg, Omega-6 Polyunsaturated Fat, Linoleic Acid (LA) 8 mg, Other Omega-6 Fatty Acids 8 mg, Omega-9 Monounsaturated Fat, Oleic Acid 45 mg, Other Omega-9 Fatty Acids 30 mg
INGREDIENTS: Fish Oil (anchovy, sardines, salmon and/or tuna), gelatin, glycerine, natural flavor, water, Non-GMO modified starch, Vitamin E (as d-alpha tocopherol), annatto (for color), stevia.
SHIPPING RATES FOR SUPPLEMENTS
With fulfillment centers in Virginia and California, orders placed by 6:30 pm ET are processed and shipped the same day and will arrive at your door within three business days. All Orders are shipped to arrive within three (3) business days.
Orders up to $39.99 $6.75
Orders $40.00+ $9.25
Heat sensitive items are not eligible for return credit.
About Sproutman-Recommended Nutritional Supplements:

Sproutman has arranged a special discount for his customers with Emerson Ecologics, a major supplement distributor that carries thousands of products, much more than are listed on this page. While you are on the supplements site, you can order anything you like and still get the Sproutman discount. Integrative, Complementary, Alternative, Holistic, Naturopathic Medicine…No matter what you call it, as healthcare continues to transform, we are dedicated to the continued emergence of natural healthcare and wellness. The products on this page are dispensed solely by healthcare practitioners and are not generaly found in Health Food Stores or supplement chains such as GNC. These are higher end products professional-grade nutritional supplements that are designed to be used by practitioners in lieu of pharmaceutical medicines.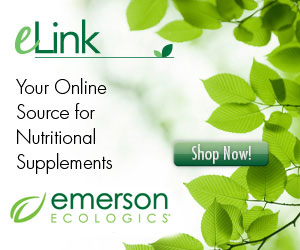 For the special Sproutman discount, enter the code SPRTMN.
Site text & trademark images Copyright © 2013
Sproutman Publications Inc.
, Steve Meyerowitz, Sproutman.
PO Box 180, 413 Farm Road, Summertown, TN 38483
1-800-695-2241 12pm to 3pm EST
Site developed by